One of the most common questions SageVest Wealth Management advisors hear is "How much do I need to retire?"
In reality, there's no one universal answer. Retirement dreams are different for everyone, and they change as life constantly evolves. However, there is a universal objective to be financially comfortable. The amount of income you need today can offer insight into what you'll eventually need to replicate in retirement. If you haven't already explored retirement planning, we offer a quick and easy chart as an initial gauge of your preparedness.
Your Retirement Savings Checkpoints[1]
The following matrix offers a glimpse of the amount of savings you should currently have captured, relative to earnings at varying ages.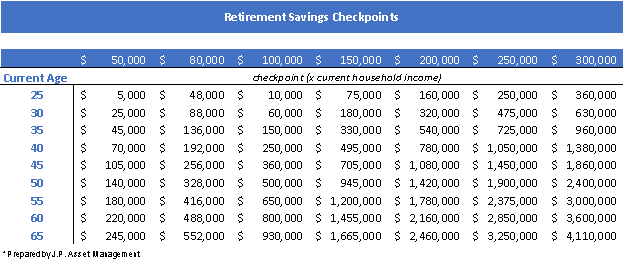 As an example, a 40-year-old, earning $200,000, should have approximately $780,000 of savings already accumulated to be on track for retirement.  If this person's current savings are below $780,000, this is an indication that more aggressive savings are likely required.
A significant observation is that the higher your earnings are, the more you need to save for retirement.  In other words, the savings requirements are not a linear or comparable increase as your earnings increase.  This is because Social Security replaces less of your income as your earnings grow.  Additionally, your taxes go up, and typically your spending does as well.
Personal Variances on Savings Requirements
The chart above should serve only as a guide as it is based upon a number of generic assumptions. When it comes to retirement, there is no 'one-size-fits-all' model.
Some factors that may impact your personal savings target include:
How To Develop a Successful and Realistic Retirement Plan
Ultimately, the best way to quantify how much you need to save for retirement is to engage in formal retirement planning.  Detailed planning encompasses your projected income, changes in spending, and taxes over a number of decades.  Ideally, the planning also considers variations in investment returns which can materially impact your savings objectives for long-term security.
SageVest planning services encompass "what if" scenarios.  These are potential real-life events that could change your planning results.  We look at such variations to help you evaluate the impact of different decisions or events.  Such "what if" items frequently include:
What if you continue working longer or decide to retire earlier?
What if your retirement spending is higher or lower?
What if you buy a second home, or downsize your home?
What if investment returns or inflation levels vary?
What if you incur a large one-time expense?
Exploring these questions and more help to guide your day-to-day decisions and frame what matters most relative to your objectives.
SageVest appreciates the importance of customizing retirement planning, helping you to make wise decisions in preparation for retirement, and ultimately enabling you to retire with a sense of confidence. We invite you to contact us if you or your loved ones would like to look closer at retirement planning.
Reference
[1] As published in J.P. Morgan Asset Management's 'Guide To Retirement SM', 2022 Edition.  This chart is for illustrative purposes only and must not be used, or relied upon, to make investment decisions. J.P. Morgan's model is based on J.P. Morgan Asset Management's (JPMAM) proprietary long-term capital markets assumptions (first 10 years) and an 80% confidence level. Household income replacement rates are derived from an inflation-adjusted analysis of: Consumer Expenditure Survey (BLS) data (2016-2019); Social Security benefits using modified scaled earnings in 2021for a single wage earner at age 65 and a spousal benefit at age 63.