Without  a doubt, the most common question SageVest Wealth Management advisors hear is "How much do I need to retire?"
In reality, there's no universal answer. Retirement dreams are different for everyone, and they change as life constantly evolves. However, there is a universal objective to be financially comfortable. The amount of income you need today can offer insights into what you'll need to replicate tomorrow. If you haven't already explored retirement planning, we offer a quick and easy chart as an initial gauge of your preparedness.
Your Retirement Savings Checkpoints *
The following matrix was prepared by JP Morgan Asset Management. It offers a glimpse of target savings, relative to earnings at varying ages.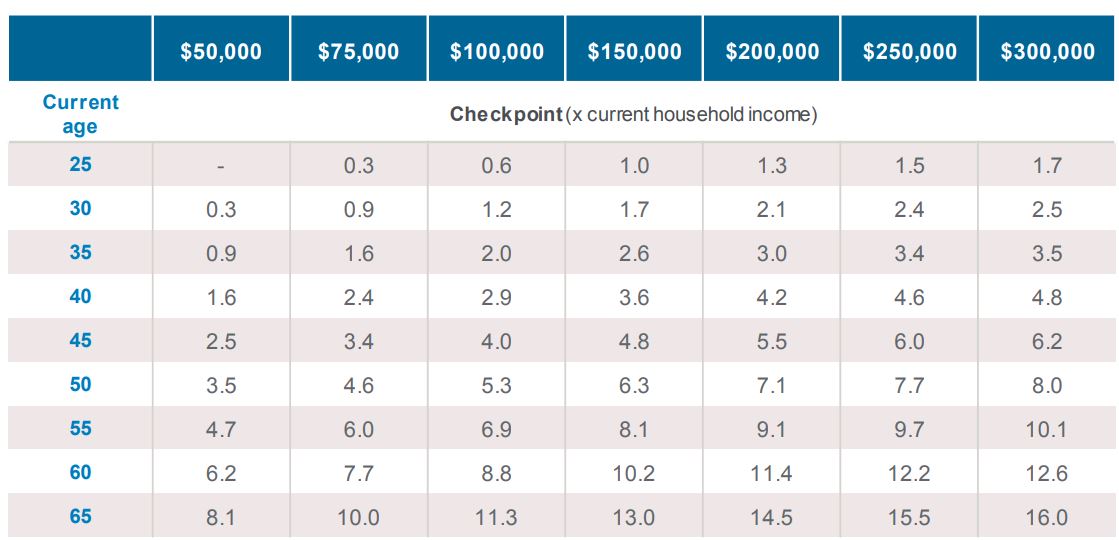 How To Use This Chart
Go to the intersection of your current age and your closest current salary.
Multiply your gross income (before taxes and savings) by the checkpoint shown. This will provide the amount you should have in savings today, assuming you continue annual contributions of 10% going forward.
For example: For a 40-year old, making $100,000, $100,000 x 2.9 = $290,000. Model assumptions include assumed annual retirement contribution rates of 10% and retirement at age 65 for the primary earner for a duration of 30 years, with an inflation rate of 2.25%, pre-retirement investment returns of 6.0% and post-retirement investment returns of 5.0%.
One observation the chart illustrates is that the higher your current earnings, the higher the earnings multiple you need to save towards retirement. That's because as your earnings increase, Social Security replaces a lower proportion, your taxes go up, and typically, so too does your spending.
Factors That May Impact Your Retirement Checkpoint Results
The chart above should serve only as a guide, as it's based upon a number of generic assumptions. When it comes to retirement, there's no 'one-size-fits-all' model.
While the list of questions you can ask yourself about your own retirement is virtually limitless, some factors that may impact your savings target include:
How To Develop A Successful And Realistic Retirement Plan
The reality is that your current life circumstances, retirement plans, and finances, are all unique to you. The only way to truly answer the question, "How much will I need to retire?" is to delve into the details. This involves looking at projected income, expenses and taxes, then layering in your goals and objectives for a happy retirement. In particular, a successful and realistic retirement plan should incorporate the following three critical elements:
'What-if' Retirement Scenarios
Every retirement plan should explore variations in assumptions and potential real-life events, to help you understand how your plans are dependent upon specific factors. Examples include:
What if you continue working longer than expected?
What if your retirement spending is $10,000 higher?
What if you buy a second home, or downsize your residence?
What if investment returns are 1% higher or lower on average?
What if there's a large one-time expense?
Exploring these questions and more will help to guide your day-to-day decision making and frame what matters most, relative to your long-term security.
Investment Stress Testing
Monte Carlo analysis is a form of stress testing your retirement success by looking at a multitude of ways in which investment returns might be generated over time. For example, what happens if the markets do well, or if they enter a downturn, at varying points throughout your retirement? Our customized retirement plans look at close to 1,000 ways an average return could be generated, giving you a percentage probability that your assets will last.
Detailed Annual Tax Planning
Taxes are often your largest expense. This means that If the tax figures in your retirement plan are inaccurate, so too is your whole retirement plan.
Many retirement software packages utilize an effective tax rate. This applies the same tax rate to your planning in each and every year of your retirement, regardless of your anticipated taxable income. Our retirement planning software is different. We look at detailed tax planning for each year, recalculating your taxes and tax rates based upon your taxable income, sources of income, itemized deductions, etc.
SageVest appreciates the importance of customizing retirement planning, helping you to make wise decisions in preparation for retirement, and ultimately enabling you to retire with a sense of confidence and empowerment about your future. We invite you to contact us if you or your loved ones would like to look closer at retirement planning.
* As published in J.P. Morgan Asset Management's 'Guide To Retirement SM', 2018 Edition.
This chart is for illustrative purposes only and must not be used, or relied upon, to make investment decisions. J.P. Morgan's model is based on J.P. Morgan Asset Management's (JPMAM) proprietary long-term capital markets assumptions (10-15 years) and an 80% confidence level. Household income replacement rates are derived from an inflation-adjusted analysis of: Consumer Expenditure Survey (BLS) data (2011-2014); Social Security benefits using modified scaled earnings in 2017 for a single wage earner at age 65 and a spousal benefit at age 62 reduced by Medicare Part B premiums.