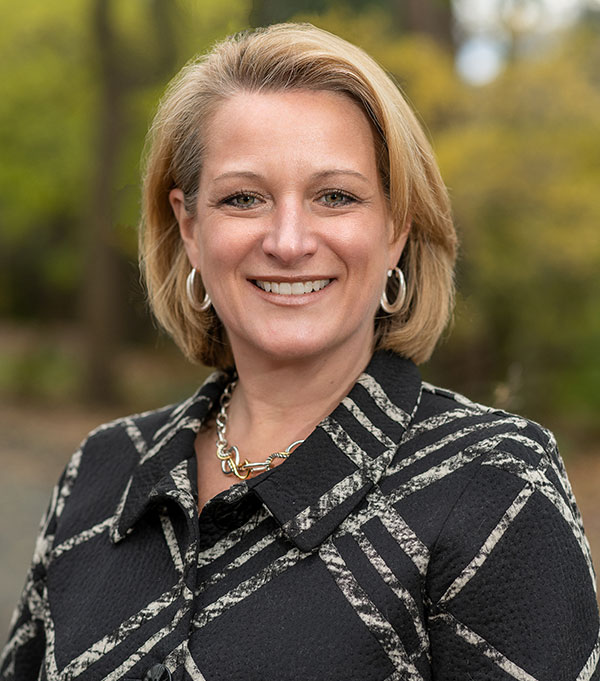 Jennifer E. Myers, CFP®
PRESIDENT
Jennifer E. Myers, CFP® serves as President of SageVest. With more than two decades of experience in the financial industry, Jennifer works with clients to help them fulfill their life and family goals, while translating complex financial matters into understandable, manageable and successful strategies.  She serves as Chair of the firm's Investment Committee and maintains close working relationships with clients to ensure that investment portfolios and broader financial objectives remain closely aligned.
Jennifer's mission for SageVest is to help individuals and families achieve their best life possible with confidence and clarity. She ensures that every client is known well, treated with integrity and respect, and understood as an individual.
As a female wealth manager, small business owner, and mother, Jennifer incorporates her business, career, and family experiences into all of her efforts to help others. Her commitment extends whether you're a client of her firm or a member of her community. An example includes her launching of SageVestKids.com to support children's financial literacy.
Jennifer has repeatedly been named as a Top Fee-Only Advisor by The Washingtonian and Northern Virginia Magazine, and as a Five Star Wealth Manager by Five Star Professionals. She has appeared on television and has been quoted in The Washington Post, CNBC, Kiplinger, US News and World Report, Investopedia, Yahoo Finance, CNN Money, NASDAQ, NPR's 'Marketplace', The Journal of Financial Planning, and a host of other national publications. Jennifer has also spoken on a variety of financial planning topics ranging from broad planning initiatives to more discrete topics such as wealth transfer planning, financial values, children and money, and women's financial planning considerations.
Her professional affiliations include membership in the Financial Planning Association (FPA), The National Association of Personal Financial Advisors (NAPFA), the Northern Virginia Estate Planning Council and the Washington, DC Estate Planning Council, of which she previously served as an officer and director. In the community, she has been a member of the Women's Business Giving Circle at the Community Foundation for Northern Virginia and the Washington Women's Leader Initiative.
Prior to establishing SageVest, Jennifer served as partner in a local RIA firm.  She also provided financial and business analysis for Unisys and the U.S. Postal Service.
Jennifer received her Bachelor of Business Administration (BBA) and Master of Business Administration (MBA) from The George Washington University. She also received the CERTIFIED FINANCIAL PLANNER™ (CFP®) professional designation from the CFP® Board of Standards.