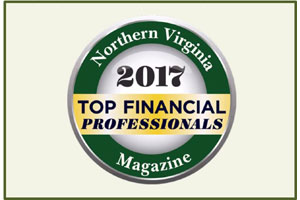 As our clients know, SageVest Wealth Management takes pride in connecting you with your wealth in impactful and meaningful ways. Our team of advisors provides personalized, comprehensive financial advisory and investment management services to individuals, families, and business owners across Northern Virginia, Maryland, and the Greater Washington, DC area.
It's fitting, therefore, that Jennifer Myers was again recognized this year as a Top Financial Professional in the Northern Virginia area.
NoVA Magazine Top Financial Professionals Award
For the third consecutive year, Northern Virginia Magazine has awarded Jennifer Myers, President of SageVest Wealth Management, a Top Financial Professionals award. Jennifer is nominated for her wealth management skills and continued dedication to offering quality financial planning advice and investment services to clients within Northern Virginia, the DC area, and indeed, across the country.
Award recipients included in NoVa Magazine's recent announcement are nominated by other financial and allied professionals via survey. Most notably, survey participants are asked to nominate other professionals to whom they would turn for financial advice for themselves or their families. Please click here for more information about the nomination, selection, and award process.
This award recognizes SageVest's ongoing commitment to providing our clients with the highest caliber of integrated personal financial advisory services. We're always available to discuss your personal financial needs and invite you to contact us. In addition, please share this news with others who may benefit from our coordinated approach to private wealth management.
Prepared by SageVest Wealth Management. Copyright 2017.