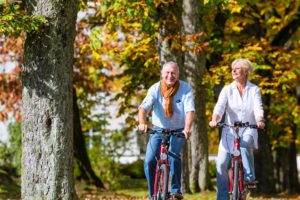 Congratulations on your milestone birthday! Age 70 is Social Security's maximum retirement age. Once you reach age 70, there's no further advantage to delaying your Social Security retirement benefit claim. Furthermore, age 70½ is the age at which most people must begin taking Required Minimum Distributions (RMDs) from Traditional IRA and other qualified retirement plans. SageVest Wealth Management considers maximum Social Security benefits and RMDs at age 70. 
Maximum Social Security At Age 70
You can begin claiming Social Security retirement benefits as early as age 62. You can also elect to delay benefits beyond your full retirement age in order to increase future monthly payments. Beyond age 70, there's no additional benefit accrual. Therefore, while you aren't compelled to claim Social Security at age 70, not doing so will actually lose you money.
Contact your local Security office in advance of your 70th birthday. Planning ahead is especially important if you have a government pension and may be subject to a pension offset or windfall elimination provision.
If your 70th birthday already passed and you're not yet collecting benefits, make a claim as soon as possible. Every month that passes is a month you're missing out on receiving benefits due to you. The Social Security Administration will pay up to six months of benefits retroactively.
Required Minimum Distributions (RMDs)
Once you reach age 70½ (or, in some cases, after retirement), the IRS requires you to withdraw an annual amount from your traditional IRAs and employer-sponsored plans. This amount is called a Required Minimum Distribution (RMD). RMDs spread your retirement savings across your lifespan, preventing accumulation of tax-deferred retirement funds as legacy assets.
Accounts And Plans Requiring RMDs
Traditional IRAs.
Simplified Employee Pension (SEP) IRAs.
SIMPLE IRAs.
Qualified pension plans.
Qualified stock bonus plans.
Qualified profit-sharing plans (including 401(k) plans).
Section 457(b) and Section 403(b) plans.
You don't need to take RMDs from a Roth IRA, but your future beneficiaries will typically need to do so.
To determine whether RMD rules apply to your employer-sponsored plan, consult your plan administrator or a tax professional.
How To Calculate Your RMD
For most people, calculating your RMD is straightforward. Simply divide the balance of each qualifying retirement account on December 31 of the preceding year by your life expectancy factor in the IRS Uniform Lifetime Table.
If your sole designated beneficiary is a spouse who's more than 10 years younger, you may base RMD calculations on the longer joint and survivor life expectancy (see IRS Publication 590), potentially offering a longer payout period.
You must calculate RMDs for each qualified retirement plan. However, you can aggregate the withdrawal from any one or more IRAs (except Inherited IRAs and employer retirement plans).
How Much RMD To Take?
You can always withdraw more than your annual RMD. Note, however, that RMDs produce taxable income.
Failing to complete your RMD triggers a hefty tax penalty (50% of the difference between the RMD you should've taken and distributions actually made during the taxable year).
Your First And Subsequent RMDs
Your first RMD is due the year you reach age 70½. You can elect to take it during that year, or delay it until April 1 of the following year. This date is called your 'Required Beginning Date'.
All subsequent RMDs must be taken no later than December 31 of each calendar year, until you die, or your balance reaches zero. Thus, if you delay your first distribution, you'll have to take two distributions in one year: your first year distribution (delayed to April 1), plus your second year distribution (by December 31).
If you continue working after age 70½ and still participate in your employer's retirement plan, your Required Beginning Date for that plan can be as late as April 1 of the calendar year following your retirement (if the plan allows this, and you own 5% or less of the company). Subsequent distributions must still occur on or before December 31 of each subsequent year.
Should I Delay My First RMD?
The decision whether to delay your first RMD is an important one, one that's based upon your personal tax situation.
You might elect to defer your first RMD if you'll be in a lower income tax bracket the following year e.g., due to a lower income or retirement.
Remember, however, that deferring your initial RMD means you'll have to take both your first and second RMDs in the same year (your first RMD by April 1, and your second RMD by December 31). This 'double distribution' increases your taxable annual income, which may place you in a higher Federal income tax bracket and prompt additional taxes. You may also lose some tax exemptions and deductions for which you might otherwise qualify.
Income Tax And RMDs
RMDs are typically subject to Federal (and maybe state) income tax for the year of distribution. They're taxed at ordinary income tax rates, even if the funds represent long-term capital gain or qualifying dividends from stock held within the plan. In some cases, there are special rules for capital gain treatment on distributions from retirement plans.
If you've ever made after-tax contributions e.g., if some of your traditional IRA contributions were not tax-deductible, those contributions may be income-tax-free upon withdrawal, simply because they've already been taxed. However, please consult a tax advisor for more information.
Special tax rules also apply to Roth IRAs and Roth 401(k)/403(b) contributions.
Inherited IRAs
RMDs from your IRA or plan cease upon your death. Designated beneficiaries must typically take Required Minimum Distributions from the account in the future. A spouse beneficiary, however, can rollover an Inherited IRA or plan account into an IRA in their own name. This allows your spouse to delay taking additional RMDs until he or she turns 70½.
As with all aspects of your wealth management, careful planning and knowledgeable guidance is essential to optimize RMDs. As a top-ranked, fee-only financial advisor SageVest Wealth Management can develop a tax-efficient plan for your Required Minimum Distributions, including evaluating your options for deferring your first RMD, calculating your aggregate RMDs, and facilitating payments. Please contact us for more information about our retirement planning services.
We also recommend that you consult a tax professional for more information about your specific tax circumstances and legacy plans.
Prepared by SageVest Wealth Management. Copyright 2019.