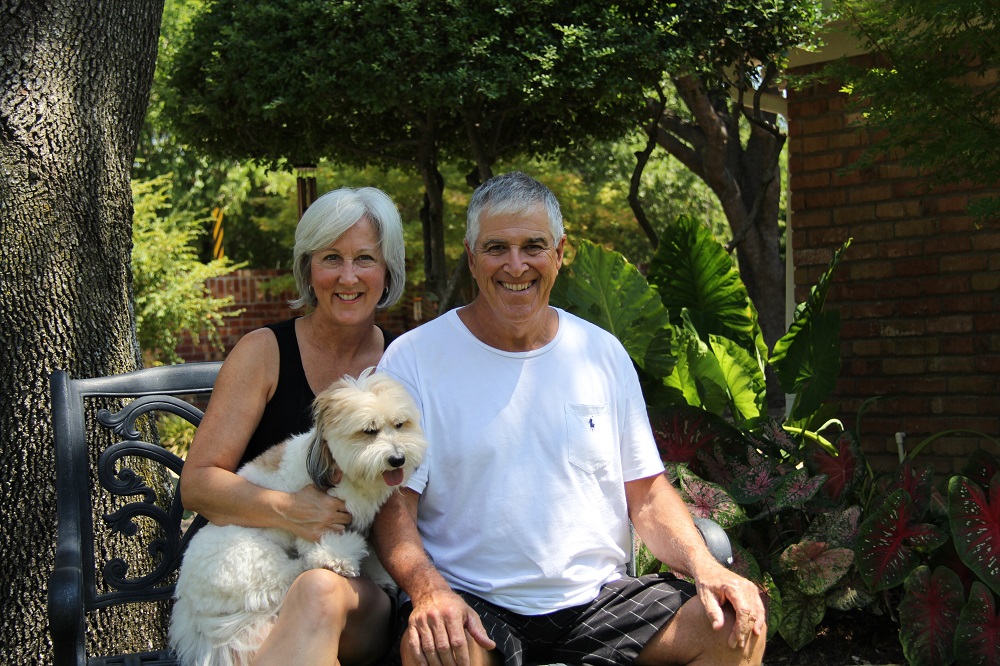 Without doubt, the most common question we're asked at SageVest Wealth Management is "How much do I need to retire?"
While there's no universal answer, there is a universal objective to be financially comfortable. Retirement dreams are different for everyone, and change as life constantly evolves. That said, the amount you need today can offer you an insight into what you'll need to replicate tomorrow. If you or your loved ones haven't already explored retirement planning, we offer a quick and easy chart as an initial gauge of your preparedness. 
The following matrix was prepared by JP Morgan Asset Management. It offers a glimpse of target savings, relative to earnings at varying ages.
Retirement Savings Checkpoints *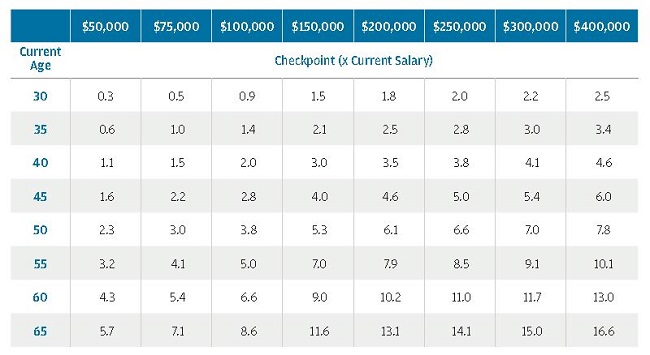 How To Use The Chart
Go to the intersection of your current age and your closest current salary.
Multiply your salary by the checkpoint shown, to get the amount you should have saved today, assuming you continue annual contributions of 5% going forward.
For example: For a 40-year old, making $100,000, $100,000 x 2.0 = $200,000.Model assumptions include assumed annual retirement contribution rates of 5% and retirement at age 65 for a duration of 30 years, with an inflation rate of 2.25%, pre-retirement investment returns of 7.0% and post-retirement investment returns of 5.0%, with a represented confidence level of 80%.
One observation you may note from the chart is that the higher your current earnings, the higher the earnings multiple you should save for retirement. This might come as a surprise, but it's due to the fact that as your earnings increase, Social Security replaces a lesser proportion, your taxes rise, and typically, so too does your spending.
What Might Change Your Retirement Results
The JP Morgan Asset Management chart is based upon a number of generic assumptions and should serve only as a guide. When it comes to retirement, there's no 'one-size-fits-all' model. The list of questions you can ask yourself about your own retirement is virtually limitless, but some factors to consider that may impact your savings target include:
The reality is that your finances, current life circumstances, and retirement plans are all unique. The only way to find the true answer to "How much will I need to retire?" is to delve into the details, looking at projected income, expenses and taxes, and layering in your goals and objectives.
Furthermore, the best way to trust the results of any analysis is to incorporate two additional elements into your planning:
'What-if' scenarios that explore variations in assumptions and potential real-life events, helping to you understand how dependent your planning is upon various factors.
Stress testing with Monte Carlo analysis to determine your probability of retirement success, assuming a multitude of ways investment returns might be generated over time.
We invite you to contact us if you or your loved ones would like to look closer at retirement planning. SageVest Wealth Management works with you to create plans and make decisions that allow you to enjoy both today and tomorrow.
If you found this article interesting, please SUBSCRIBE.
Prepared by SageVest Wealth Management. Copyright 2015.
* As published in J.P. Morgan Asset Management's 'Guide To Retirement SM', 2015 Edition.
This chart is for illustrative purposes only and must not be used, or relied upon, to make investment decisions. J.P. Morgan's model is based on J.P. Morgan Asset Management's (JPMAM) proprietary long-term capital markets assumptions (10-15 years). Post-retirement volatility assumption is 6.3%. Salary replacement rates are derived from Aon Consulting's 2008 Replacement Ratio Study data, which assumes individuals receive Social Security payments in retirement. Calculations assume an individual earning $50,000 at retirement will need to replace at least 30% of their pre-retirement income; individuals earning $75,000 will need to replace at least 37%; individuals earning $100,000 will need to replace at least 45%; individuals earning $150,000 will need to replace at least 61%; individuals earning $200,000 will need to replace at least 69%; individuals earning $250,000 will need to replace at least 74%; individuals earning $300,000 will need to replace at least 79%; and those earning $400,000 will need to replace 87%. Allocations, assumptions and expected returns are not meant to represent JPMAM performance. Given the complex risk/reward tradeoffs involved, we advise clients to rely on judgment, as well as quantitative optimization approaches in setting strategic allocations. References to future returns for either asset allocation strategies or asset classes are not promises or even estimates of actual returns a client portfolio may achieve.